VA – Hip Hop Roots (CD) (2005) (FLAC + 320 kbps)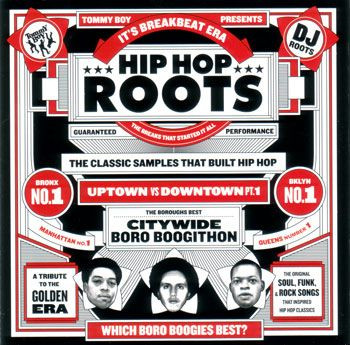 "The Classic Samples that Built Hip-Hop" [cover]
Booklet contains three and a half pages of notes on the featured tracks includings lists of the (mostly hip hop) tracks that have sampled them.
The breaks have been extended on several tracks by Jazzy Jay (either looped or beat-juggled).
"Jazzy Jay was the first DJ I saw extend a beat only half a bar long live. His turntablist pyrotechnics were my first introduction to 'quick cut' DJing and turntablism. Jazzy Jay was kind enough to contribute some of his traditional edits the way he would do it live at the T-Connection." [booklet notes]
Although not credited as such, track 11 is the album remix including the "clap your hands, stomp your feet" line played by Kool Herc.
Tracklist:
1 The Jimmy Castor Bunch– It's Just Begun
2 Billy Squier– The Big Beat
3 Lyn Collins– Think (About It) (Feat. The JB's)
4 Bob James– Take Me To The Mardi Gras
5 David Bowie– Fame
6 The Blackbyrds– Happy Music
7 Charles Wright & The Watts 103rd Street Rhythm Band– Express Yourself
8 Cymande– Bra
9 The Monkees– Mary, Mary
10 Dyke & The Blazers– Let A Woman Be A Woman (Let A Man Be A Man)
11 James Brown– Give It Up Or Turnit A Loose (Remix)
12 ESG– U.F.O.
Download:
FLAC – Wayshare
320 kbps – Wayshare