Tom Caruana – The Beatles vs. Hip-Hop Legends: An Adventure To Pepperland Through Rhyme & Space (WEB) (2015) (320 kbps)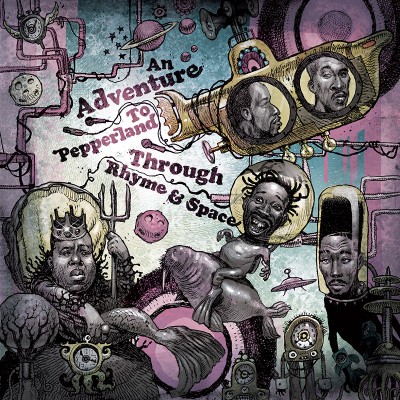 You're about to get your hands on An Adventure To Pepperland Through Rhyme & Space – the epic 48-track double LP download documenting the consequences of an unscheduled detour through a rift in the space-time continuum by the Fab Four…to 1990s Brooklyn.
Having landed in hip-hop's golden era, it seems the band set up and jammed in a makeshift studio with assorted rap legends. Which is when things got really trippy. And ill. In fact ill-trippy. Although, clearly, the Fab Four eventually got a ticket to ride back to '64, the music forged in that time-out-of-time was thought to have been lost. Until now. This album reveals the band journeyed through the doors of perception much earlier than previously thought and worked with everyone from P.E. to Spoonie Gee, Tha Liks to Hieroglyphics and Large Professor to Salt n Pepa. Among others. Frankly, it's a helter skelter ride from 'mop-top hip-hop' to 'let it beats' – or perhaps we should think of it as 'blunted rappers mashed with drug-fried band' which – after all – sounds much like an album title itself. There cannot be a single earthly reason for you not to turn on, tune in and download the music, the images, the 'liner notes' and the instrumentals below in assorted formats. Get on it!
Disc 1:
01. Intro (Part 1) – The Beatles & Friends
02. Hello Hello – Edan
03. Mr Mustard – Big Daddy Kane
04. Second To None – Rakim
05. Taxman – The Notorious B.I.G.
06. Gentle Thief – Nas
07. Where I'm From – Large Professor
08. Country Grammar – Talib Kweli & Bun B
09. Parlay – J-Live
10. Twist – Salt-n-Pepa
11. Birthday Dedication – Busta Rhymes
12. Open Mic Session (Part 1) – Masta Ace, Percee P, Lord Finesse, Frankie Cutlass, Easy Mo Bee & KRS-One
13. Number Nine – YZ
14. Self Titled – Heltah Skeltah
15. Bang Bang – M.O.P.
16. Pepper – Kool G Rap
17. Bring Your Friends – Public Enemy
18. Interlude Bridge – MC Shan
19. Last Forever – Artifacts
20. For The Children – Freddie Foxxx
21. Ringo's Big Beat Theme – Spoonie Gee
22. Hold Poppa's Large Hand – Ultramagnetic MC's
23. Open Mic Session (Part 2) – Kool G Rap, Big Daddy Kane & Rakim
24. The End – Run-D.M.C. & Afrika Bambaataa
25. Circles – Wu-Tang Clan
26. Brooklyn Walrus – Ol' Dirty Bastard, Buckshot, Masta Ace & Special Ed
Disc 2:
01. Intro (Part 2) – The Beatles & Friends
02. Secrets – Slick Rick
03. Beneath The Sky Of Diamonds – GZA
04. Within Tomorrow – Busta Rhymes
05. The Beginning – Sunz Of Man
06. Gentle Drama – RZA & Rugged Monk
07. Becausizm – KRS-One & Channel Live
08. Mary Jane – Tha Alkaholiks
09. Bong Water – Viktor Vaughn
10. Hold On – The Beatles & Friends
11. Love In Summertime – Ghostface Killah & Beyoncé
12. And I Love Her Crazy – Jay-Z & Beyoncé
13. Ruffneck Soldier – MC Lyte
14. Hey! – Beastie Boys
15. Get Back To The City – Large Professor
16. Hard To Leave Home – Nas
17. The Flyest – AZ
18. And Who – Hieroglyphics
19. Lonely Thoughts – The Notorious B.I.G.
20. Can You Dig It – Gravediggaz
21. How To Smile – 2Pac & Scarface
22. A Day In New York – AZ, Raekwon & Ghostface Killah
Download:
320 kbps – Wayshare