Step Brothers – Lord Steppington (CD) (2014) (FLAC + 320 kbps)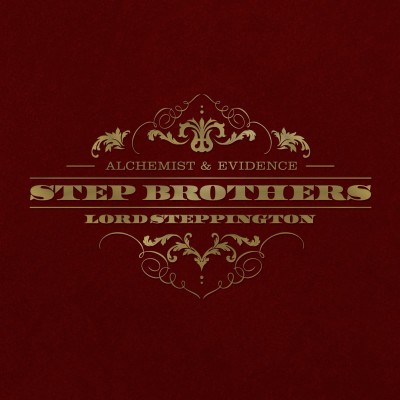 Lord Steppington is the collaborative debut studio album by California-based hip hop duo Step Brothers (rapper/producers The Alchemist and Evidence).
Evidence has traveled the world, released a string of acclaimed albums with Dilated Peoples and as a solo artist, has become a respected producer crafting beats for Kanye West, Beastie Boys and Linkin Park among others. For his part, Alchemist has become one of rap's triple threats, producing for Snoop Dogg, Eminem, Nas and many more. Alchemist is also an accomplished rapper and Eminem's touring DJ. While they were building their respective careers, Evidence and Alchemist had worked together regularly collaborating on Dilated Peoples albums, Evidence's solo material and Alchemist's releases. As the pair continued collaborating, they began labeling themselves as Step Brothers when they would record, as noted on Evidence's The Layover EP. The pair then decided it was time to record an album together.
Now as the Step Brothers, Evidence and Alchemist deliver another stellar musical achievement, Lord Steppington, which delivers lyric-driven, punchline-heavy and intricate rhymes. Lord Steppington boasts the best of the duo peppered with frequent collaborators and friends, including Action Bronson, Roc Marciano, Domo Genesis, The Whooliganz, Styles P, Fashawn, Rakaa, Blu and Oh No.
Tracklist (CD):
01. More Wins
02. Dr. Kimble
03. Byron G (Feat. Domo Genesis & The Whooliganz)
04. Legendary Mesh
05. No Hesitation" (Feat. Styles P)
06. Swimteam Rastas
07. Mums In The Garage (Feat. Action Bronson)
08. See The Rich Man Play (Feat. Roc Marciano)
09. Banging Sound (Feat. Fashawn)
10. Step Masters
11. Tomorrow (Feat. Rakaa & Blu)
12. Draw Something (Feat. Oh No)
13. Buzzing Away
14. Just Step
Download:
FLAC – Wayshare
320 kbps – Wayshare
Tracklist Deluxe Edition (WEB):
01. More Wins
02. Dr. Kimble
03. Byron G (Feat. Domo Genesis & The Whooliganz)
04. Legendary Mesh
05. No Hesitation" (Feat. Styles P)
06. Swimteam Rastas
07. Mums In The Garage (Feat. Action Bronson)
08. See The Rich Man Play (Feat. Roc Marciano)
09. Banging Sound (Feat. Fashawn)
10. Step Masters
11. Tomorrow (Feat. Rakaa & Blu)
12. Draw Something (Feat. Oh No)
13. Buzzing Away
14. Just Step
15. String Cheese (Bonus Track)
16. Bally Shoe (Feat. Psycho Les & Fargo) (Bonus Track)
Download:
320 kbps – Wayshare