Goldfinger – Kan Open (CD) (1998) (FLAC + 320 kbps)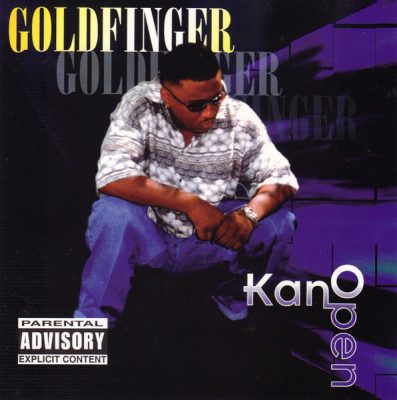 Dale Ray Lane (born October 22nd, 1968) is a rapper, singer, songwriter and producer based in Mesquite, Texas. Lane grew up in the Frazier Court projects of South Dallas, and after graduating from Roosevelt High School in 1986, he began pursuing a music career under the name Goldfinger.
Goldfinger's first endeavor was as a part of The G-Crew, whose sound he'd describe as "Jodeci with a rap flavor". By 1988, following a steady run on the local talent show circuit, the group was discovered by Larry Johnson of Metro Talent, who offered to represent them. The G-Crew released their first single, "Strung Out," in 1989 independently, but as Lane grew disenchanted with their fickle attitude toward music as a career, Johnson also became more interested in taking on Goldfinger as a solo act.
With Johnson as Goldfinger's manager, the two worked to secure steady gigs. However, after just one year, Goldfinger fired Johnson, claiming to have greater success on his own. Despite his firing, Johnson still supported Lane, and managed to talk with label owner Tommy Quon about signing him to Ultrax Records. At the time, Ultrax was an up-and-coming indie label bolstered by the success of one-time client Vanilla Ice, with an impressive roster of local rap, soul, and R&B acts. Meanwhile, by winter 1991, Goldfinger shopped around an original single of his, "Scheek Fool". The song was warmly received in clubs, and eventually made its radio debut on KKDA FM 104.5, where it was requested frequently. The next year, Ultrax promoter Ricky Ricardo, encouraged by the reception to the single, informed Tommy Quon about Goldfinger, and Quon signed him to a three-year deal with the label, supplying him with a $120,000 advance payment. Goldfinger expanded his profile nationally through touring with major acts, and released his debut album, This Beat Is For Freaks, which was led by "Scheek Fool," his by-now-signature song.
Conversely, by 1992, Ultrax was financially struggling. As Quon was Vanilla Ice's manager in addition to Goldfinger, Ice's career was stalling due to unpaid royalties, which resulted in lack of significant cashflow to the label. Similarly, Goldfinger's advance money was running out. Lane soon became suspicious of Quon, after hearing from a distributor that This Beat Is For Freaks had sold as many as 172 thousand copies throughout Dallas and Houston, all the while his repeated requests to him for royalty statements were given the runaround. Goldfinger would proceed to sue Quon, alleging withheld royalties and breach of verbal agreement. In reality, the album had moved only about 10 thousand units against a $100,000 budget, and subsequent singles, while performing well during the album's release, did little to recoup the advance payment. Quon ran Goldfinger out of court, and realizing his efforts were fruitless, Goldfinger dropped the suit, parting ways with Quon and Ultrax. The label would struggle for two more years, in part due to more lawsuits brought on by similarly dissatisfied clientele, before folding in 1994.
The next year, Goldfinger continued on strong footing as a producer for other artists. As DJ Golfinger, he teamed up with J. Bond and Slick Lee for the album Bass Booty Mission. By 1996, Lane would reprise his Goldfinger moniker, signing with Midwest Records and releasing his comeback album, Freakin' In the Hood. In 1998, he'd sign with Nino Records for his third album, Kan Open. His fourth and final album, Butt Nekkid, would follow in 2000 under the name Mr. Goldfinger.
Tracklist:
01. Intro
02. Where It At?
03. Kan Open
04. Lot Of Money
05. You Don't Have To Live As A Thug
06. Party
07. Get Your Knee's Dirty
08. Where Them Hoe's At
09. Remix-"Bounce" (Kan Open)
Download:
FLAC – Wayshare
320 kbps – Wayshare