Esoteric & Stu Bangas – Machete Mode (CD) (2013) (FLAC + 320 kbps)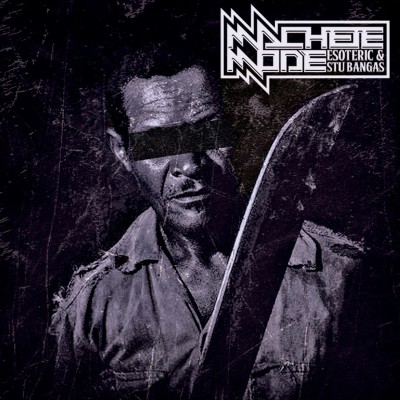 Esoteric is a rap veteran from the golden era of hip hop. Never one to shy away from voicing his opinions through his music, he is a true emcee at heart, who above all else, does not buckle to the current trends, creating music that may not conform to the current trends. Machete Mode, like his previous collab album with Inspectah Deck, Czarface, is no different and finds Esoteric and Stu Bangas creating a gritty, aggressive, battle rap album that underground hip hop fans will love. Right from the time in which you press play, Eso proves that he can provide some of the best punch lines and battle raps with "I Attack", which has Eso rhyming in quick rhythm over an fast, aggressive beat. Eso raps, "Optimus Prime be the only reason you pull a semi out/Is there really any doubt?/As to who be the best? E to S, lethal yes, creature double feature fest/Papered up like teachers desk/ So we don't need a test/ Your like the panic button, when we rhyming you should be depressed". Esoteric continues along these lines for the rest of the track and that he is vastly underrated as an emcee. He can hang with anyone in terms of lyrics and flow, and actually this may be the reason that he does not get a lot of calls for guest features by more mainstream artists (in that he may totally outshine them).
While the record starts off with an aggressive battle track, that is not to say that the album has no substance. Quite the contrary, as listeners will be pleasantly surprised by the amount of depth and topics that Eso and Stu cover with this album. The track "Repercussions" has Eso reliving the controversy he created with his track "Kill Bill O'Reily" with his group the East Coast Avengers. Eso goes over why he made the track, the backlash and death threats he received and ends the track with the lesson that every action has a reaction. "Never Be" has Eso examining all things fake in the music and entertainment industry from artists airbrushing their images to artists suddenly becoming gangstas in their music. The message of the track is basically that the majority of people waste so much time caring about what others think of them and that the majority of people are all putting on an act, being someone that they are not. "Wonder Why" has Eso going through his growing up and the difficulty in balancing music and family, and the struggles he went through to follow his passion. These tracks all show the strength of Esoteric as an artist as well as a lyricist. He is able to create tracks that tell a story and get a message across. Whether you believe or agree with his message is up to you, but Esoteric always states his opinion and fully puts himself into his tracks.

Tracklist:
01 Attack
02 Repercussions (feat. Ill Bill)
03 Rafters
04 The Danger (feat. Celph Titled, Apathy & Vinnie Paz)
05 Never Be
06 Ease Up (feat. Planetary, Reef The Lost Cauze & Blacastan)
07 Wonder Why
08 Save Ya Breath (feat. Joell Ortiz & Hindsyte)
09 State of War (feat. Celph Titled)
10 Steel Chairs
11 Bounty Hunters (feat. Madchild of Swollen Members)
12 Blood on the Flowers (feat. Spit Gemz)
13 S.T.M.F.
14 Pharaoh Status (Bonus Cut)
Download:
FLAC – Wayshare
320 kbps – Wayshare