DJ P – Dee JPee's Big Adventure (2xCD) (2008) (FLAC + 320 kbps)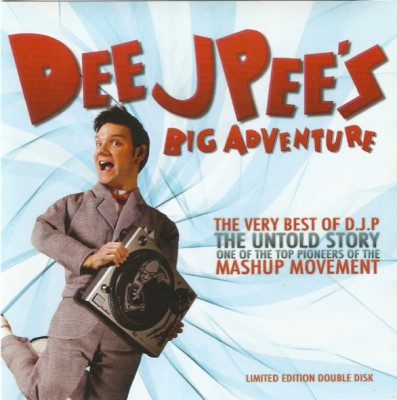 "Dee J Pee's Big Adventure" is the collection you've all been waiting for. For years you've all asked for a "Best Of" album, with all the best blends from Uneasy Listening, Hell On Wheels, and all that crazy shit you hear live that's NEVER been put on CD before. Well it's finally here. It's all blended into a brand new mix. D.J.P himself has said that this is the best album he's put out yet.
But that ain't all. You know damned well the best of D.J.P can't fit on one CD. "DJ-Pee's Big Adventure" is a double disc CD.
If you have never seen DJ P play records live, you've been missing out. This guy is a mad man. He brings at least five crates of records with him to a show. I have seen him mix Kenny Rodgers with the Beastie Boys flawlessly. Every time I see this guy play, all I can say is damn!
What really sets P apart from other turntablists is that he can be absolutely ROCKING a dance floor while doing all the crazy tricks that make you want to stop and trainspot.
CD1:
01 Untitled
01 Untitled
03 Untitled
04 Untitled
05 Untitled
06 Untitled
07 Untitled
08 Untitled
09 Untitled
10 Untitled
11 Untitled
12 Untitled
13 Untitled
14 Untitled
15 Untitled
16 Untitled
17 Untitled
18 Untitled
19 Untitled
20 Untitled
Download CD1:
FLAC –  |  Wayshare
320 kbps –   |  Wayshare
CD2:
01 Untitled
01 Untitled
03 Untitled
04 Untitled
05 Untitled
06 Untitled
07 Untitled
08 Untitled
09 Untitled
10 Untitled
11 Untitled
12 Untitled
13 Untitled
14 Untitled
15 Untitled
16 Untitled
17 Untitled
18 Untitled
19 Untitled
20 Untitled
21 Untitled
22 Untitled
23 Untitled
24 Untitled
25 Untitled
26 Untitled
27 Untitled
28 Untitled
CD2:
FLAC –  |  Wayshare
320 kbps –   |  Wayshare