Cookie Crew – Born This Way (1989) (CD) (FLAC + 320 kbps)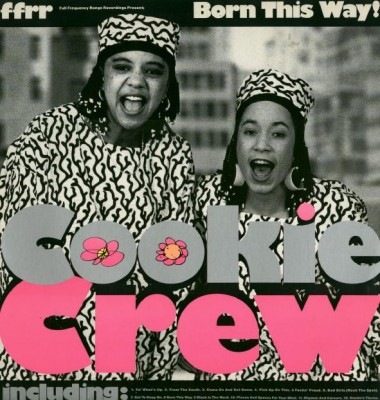 This Clapham, south London, England rap duo comprised MC Remedee (Debbie Pryce, a former chef for the Ministry Of Defence) and Susie Q. (Susie Banfield, sister of the Pasadenas' Andrew Banfield). They put the act together in 1983, originally as a 13-piece collective entitled Warm Milk And The Cookie Crew, after which they were picked up by the Rhythm King Records label. The breakthrough followed when they recorded 'Rok Da House' with their producers, the Beatmasters. Originally to have been used as an advert for soft drink Ribena, it became a UK hit in December 1987, and is often credited with being the first 'hip-house' record. Signing to ffrr Records, they went on to work with producers such as Stetsasonic, Gang Starr, Black Sheep, Davey D, Daddy-O and Dancin' Danny D (D-Mob), and later added Dutch singer MC Peggy Lee as a 'human beatbox'. Their DJs also included DJ Maxine and DJ Dazzle, who were among a succession of collaborators. In 1989 they enjoyed hits with 'Born This Way', 'Got To Keep On' and 'Come And Get Some'.
They were also prominent as part of the Black Rhyme Organisation To Help Equal Rights (B.R.O.T.H.E.R.) along with Overlord X, Demon Boyz, She Rockers, and many other black rap acts in the UK. On their second album they teamed up with jazz fusion artist Roy Ayers for a new version of his 'Love Will Bring Us Back Together'. However, all was not well between the Cookie Crew and London Records. The latter wished to increase the duo's chart profile with more commercial material. The Cookie Crew, for their part, wanted to concentrate on more hardcore hip-hop. A bizarre compromise was reached in the summer of 1992 when two singles, 'Like Brother Like Sister' and 'Crew's Gone Mad' were released side by side. The former was a hip house pop tune, the latter a biting rap track, in an experiment to decide the direction of their future career. In the event, the group had run its course anyway, and Remedee would go on to form the New Wave Sisters with Trouble And Bass (another female rap duo) and Dee II, also setting up a concert and club agency – 786 Promotions.
01. Yo! What's Up
02. From the South
03. Come On and Get Some
04. Pick Up on This
05. Feelin' Proud
06. Bad Girls (Rock the Spot)
07. Got to Keep On
08. Born This Way
09. Black Is the Word
10. Places and Spaces
11. Rhymes and Careers
12. Dazzle's Theme
13. Got to Keep On (B-Boy mix)
14. Places and Spaces (Mellow mix)